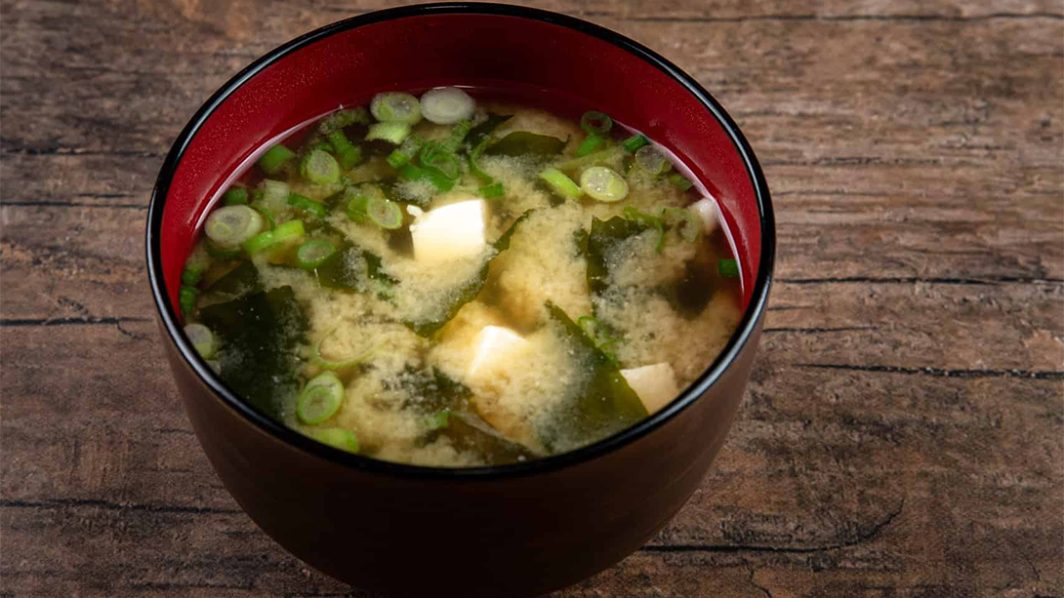 One of the highlights of a meal at a good Japanese
restaurant is miso soup. This is usually clear,

 often with
chopped green onions, diced tofu, oriental dried mushroom
slices, and delicate spices.
For home use, several brands of dehydrated miso soup are
available in oriental and health-food stores. But a better
way is to make your own, customized to your taste. Here is
one of my recipes, which makes a complete meal. This soup
is not clear.
Ingredients per person:
* two cups water
* angel hair pasta, about a half inch circle's worth
* fresh miso paste, from health-food store or similar,
about a rounded tablespoonful
* one of the following enhancements —
— about half cup of diced or crushed firm tofu
— one or two whipped eggs
— the tofu with one egg
*optional: green spice mix, fresh ground black pepper,
diced onions or garlic, and tablespoon of a good soy
sauce
These quantities were determined by trial and error.
Vary to suit your own tastes.
The only negative about this recipe is that boiling miso
can kill the healthful fermentation culture. If you have a
food blender, you can pulverize the miso in some water, to
add after the pasta is cooked. Otherwise, proceed as
follows.
Place the water in a large enough pot, and bring to boil on
stove top. Reduce heat, add miso, and use fork or spoon to
break miso paste into small pieces. The angel hair pasta
will cook in less than 5 minutes, as judged by it being very
limp or by not being tough to bite test.
Add all other ingredients of your choice, and stir. The egg
will be cooked by the soup into "egg drops".
Remove from heat. Cooling can be helped with one or two ice
cubes stirred in, or 3 to 5 minutes placement in
refrigerator.
Orientals would eat such a noodle soup with chop sticks, and
a bowl that can be lifted to the mouth. Culturally deprived
North Americans can use fork and spoon, alternating, to get
a similar result.
This is a high protein meatless meal. I make it when I am in
a hurry, or want something different for lunch, or just
plain feel in the mood. Divided in half, it can be a side
dish for dinner.
Bon appetit!
** Diet with FACTS, not MYTHS. **