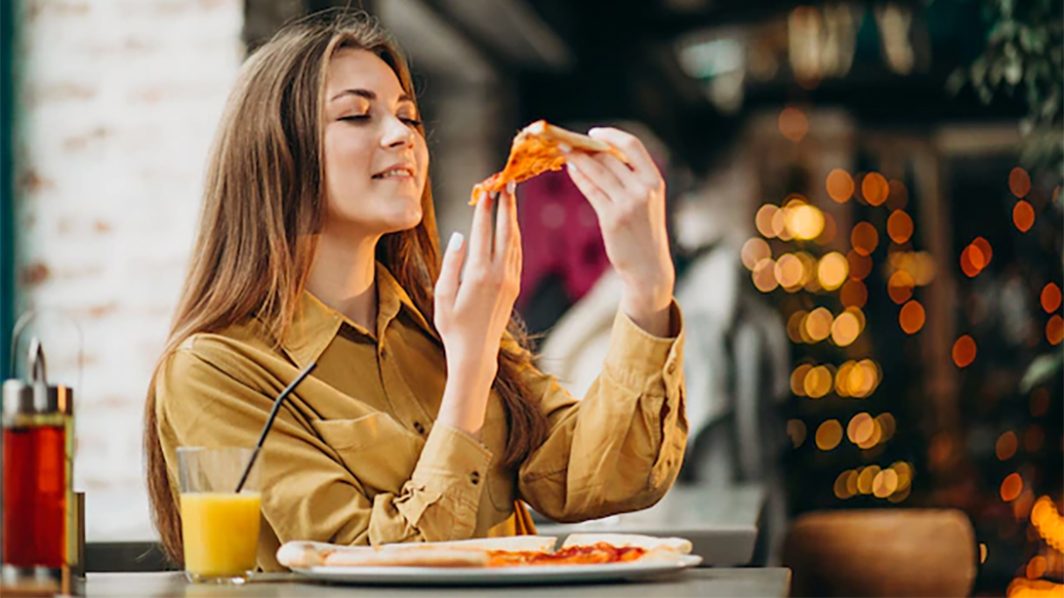 They're coming — the Holidays –How are you going to handle the gorgeous,

 fattening foodsthat inevitably accompany every party, gathering or event?Food is a big and wonderful part of the holiday tradition….From Thanksgiving to New Years, we stuff our faces withAunt Linda's famous pumpkin pie to Grandma's N.Y. stylecheese cake. (Actually, it all starts with Junior's Halloween candy.)
Learning to deal with the mass quantities of fattening food doesn't have to be painful. Instead, get to the root of the Holiday munchies:
1. Take the stress away.Stress causes many of us to overeat. This year, cut out a few of the more stressful holiday events. It is OK to say, "No." For instance, traveling during the holidays can cause extra stress that you don't need. Put your foot down this year and tell your relatives that you're not going to travel.
Or maybe your stress is caused by having a gazillion people over to your house for dinner. This year consider having a quiet dinner or suggest that it's someone else's turnto play host. Spending too much on gifts can also be an unneeded stress. Try telling relatives you'd like to cut down on gift giving this year… just tell the plain truth – money is tight and you can't afford it. Instead, suggest a lower cost alternative… like trading homemade gifts or putting a limit on the gift cost. Whatever the source of your stress, nail it down and remove it. And throw the guilt out the window. You will feel relieved and happy with the controlthat you exert over the situation. It's your choice to take the control… don't leave room for excuses.
2. Focus on holiday activities, not holiday food.Go ice skating, caroling, or read a favorite holiday book. Don't be afraid to start your own traditions. Instead of focusing on the baking and cooking traditionsmake a new tradition surrounding an activity likedecorating your own door wreath.
3. Replace some of your high calorie holiday foods with lowcalorie or healthier options. Replace cookies with fruit, replace rich candies with nuts, replace an apple pie with ambrosia.Every year, my mom used to include a carton of malted milk balls in our stockings.
I've created a healthy alternative:
I put tropical fruits like coconut, large naval oranges, mangos, and star fruit in the stockings. In our house, one of the highlights of Christmas morning is when my son finds a coconut in the bottom of his stocking. (It's easy to make your own traditions, just focus on the things that you and your significant others enjoy!)
4. What do you do when you just have to make the cookiesor when Aunt Sue brings you a delicious fruit cake?Put limits on what you allow yourself to eat. For instance, for each different kind of cookie you make,combat cookie munchies with a rule before you start baking: allow yourself 1-2 cookies of each different batch and then give the rest away to family, friends, and teachers. Another idea you might like to try… don't give up the lovelysmell of baking, just make non-edible foods:- cookies you hang on the tree or- non edible gingerbread houses. (Making one giant gingerbreadhouse and trying to keep it glued together will fix your desire to bake for the next year!)
If you receive lots of baked goods as gifts – freeze them or bring them to work or serve them only when guests come over.
5. Going to a party? – Don't starve yourself all day so you can eat more at the party.
You'll end up eating the high fat foods to compensate.
– Need a dish to pass? Bring a healthy dish
– like a fruit tray,a vegetable dish, couscous, or a low fat vegetable lasagna.
– Sometimes, the problem with parties is that the dessertsare laid out with the main meal. Be sure to eat the healthy foodsbefore diving into the desserts.
– Eat a variety of foods in smaller quantities.
– Need to munch? Hang out at the fruit and vegetable trays.
– Your choice of beverage can make or break your entire day.
Eggnog is the traditional diet killer.
– Before you eat it, input the food into your NutriCounter
If you're exceeding your nutritional goals for the day, you'll think twice before eating.
Adopt a new holiday philosophy that will change your life and your holiday eating habits: Take control and give up or replacea few of the holiday traditions. Whether it's stress inducingevents or great grandma's meat pie… ask yourself, "Do I really need it this year?"