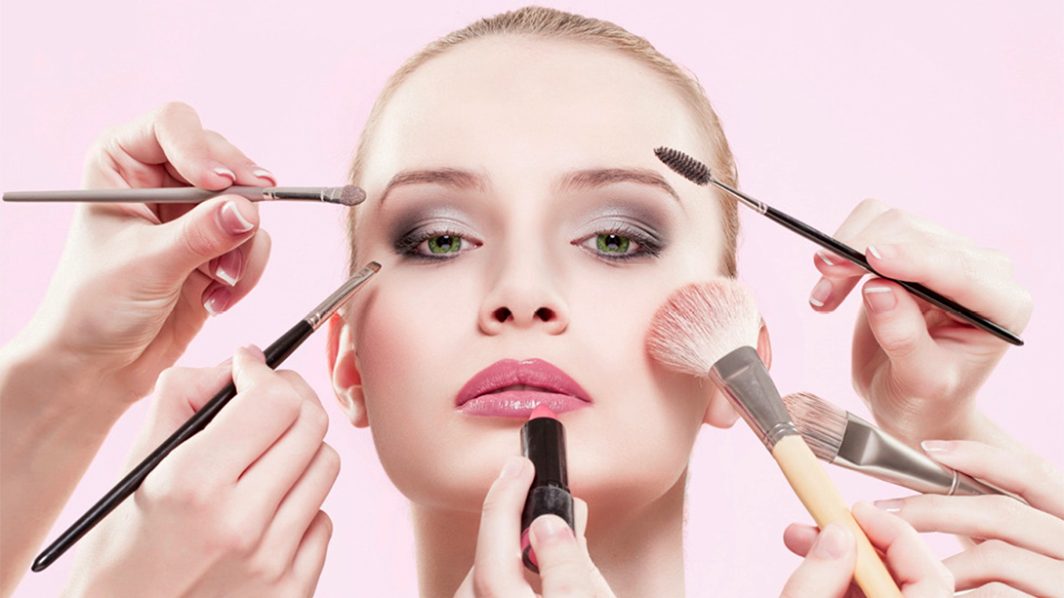 Many women wear make-up every day. It enhances appearance and can add confidence. However many cosmetics and skin care preparations contain carcinogenic ingredients.  
Foundation creams often contain bentonite which is used to put out fires.It suffocates the flames so that oxygen can't get through to inflame the fire. 
In skincare preparations bentonite suffocates the skin,

 stopping it from breathing.
Liquid foundations may contain mineral oil which is a potential carcinogenic.
Most of us use a moisturiser every day on our skin in the hope of improving our skin and protecting it from the elements. However the majority of them contain molecules that are to large to enter the pores of the skin. As a result these creams sit on the surface of the skin gradually blocking the pores and glands.
The sweat glands are unable to work properly and the oil glands can't drain effectively resulting in the build up of toxins and bacteria in the skin. This in turn can cause black heads, spots and a dull complexion.
Propylene glycol is also commonly found in skincare products. It's a cosmetic form of mineral oil found in industrial antifreeze, and brake fluid. It acts as a moisture retainer by preventing the escape of water or moisture from the skin.
Material data safety sheets warn against skin contact with propylene glycol as it can be an iritant and cause liver abnormalities and kidney damage.
You would be better off drinking 2 litres of water a day to rehydrate the skin than spending a fortune on some of these expensive moisturisers.
Many eyeshadows and blushers contain talc which is very similar to asbestos. Talc is a known carcinogen and has been linked to ovarian and lung cancer. Numerous tests have shown a link between using talc in the genital area and ovarian cancer. It also posses a health risk when inhaled into the lungs.
Other powders found in these products contain artificial fragrances which is the most common cause of allergic reactions to cosmetics.
Mascara may contain alcohol, formaldehyde and plastic resins. Sensitivity to these ingredients can cause iritation to the eye in the form of redness, swelling and burning.
9%-25% of toxins that we are exposed to are absorbed into our bodies from cosmetics and personal care products that we use each day. The skin is very permeable and some chemicals can penetrate the skin in large amounts. This is especially true of facial make-up which is often worn all day.
The average woman has 4 times more toxins in her blood, and a hairdresser has 4 times more than the average woman.
Dr Samual Epstein is the chairman of the Cancer Prevention Coalition. He has researched into the use of toxins in our personal care and everyday products and has written many books including "The Safe Shopper's bible", and "Cancer in Britain"
Read Samual Epstein's report on cosmetics
http://www.preventcancer.com/consumers/cosmetics/cosmetics_personal_care.htm