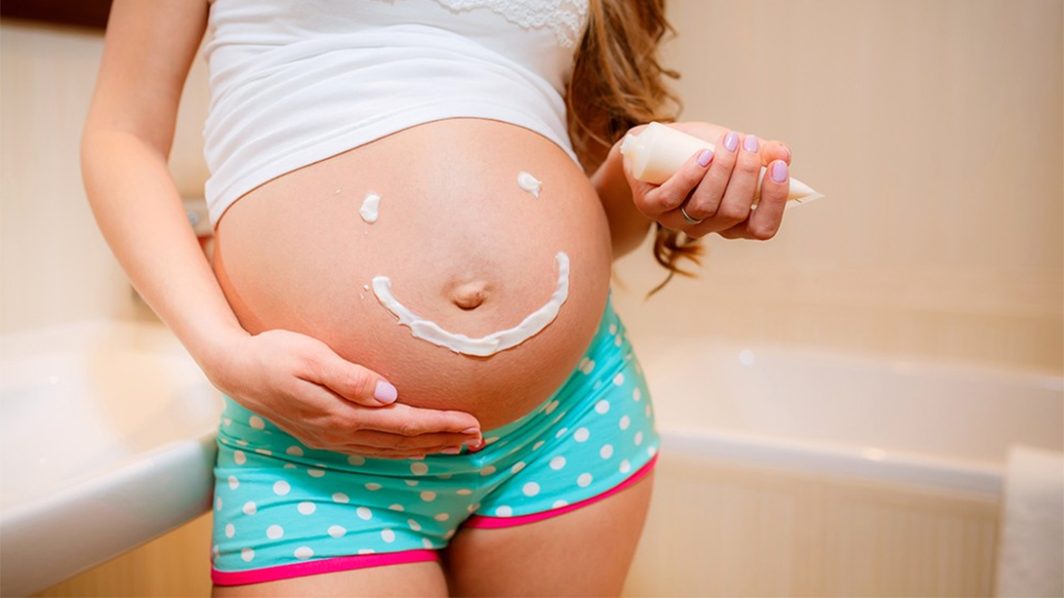 Pregnancy is a wonderful time in a woman's life. One aspect of child-bearing ,

 however, may not be so welcomed. For 75-90% of pregnant women, stretch marks, or striae gravidum, can appear in the later half of pregnancy. Stretch marks do not pose any health risk to either the mother or child, but can cause anxiety over their appearance for those who develop them. Stretch marks first appear as raised striations which vary in colour from pink, purple or brown, depending on the mother's normal skin colour. Striations develop where fat is stored in the body, such as the abdomen, thighs, hips, buttocks, breasts and arms.
Stretch marks develop during pregnancy because of rapid and excessive weight gain in areas such as the lower abdomen or thighs. As weight increases, the collagen and elastin in the dermal layer of the skin, responsible for retaining shape and firmness, is stretched to the point of breaking. The dermis is the layer beneath the epidermis, or visible layer of the skin. The elastic fibres in the dermis weaken with stretching and increased cortisone levels normally produced in the last trimester. As these fibres separate and the skin stretches, collagen is overproduced to form scar tissue which result in striations.
There is no cure for stretch marks. The scarring process that has occurred in the dermis cannot be reversed, but stretch marks will flatten, fade and lighten over time. Creams which contain steroids such as hydrocortisone, or active agents like tretinoin (retin-A) should not be used during pregnancy, and especially not during the first trimester when the fetus is highly vulnerable. Plastic surgery methods are available to reduce the appearance of stretch marks, such as dermabrasion or laser, but treatments are expensive and results vary.
Genetics play a role in whether a pregnant woman will develop stretch marks, but equally influential factors are the condition of the skin and nutrition in determining the onset and severity of stretch mark development. Well-hydrated and healthy skin stretches more easily, so drinking plenty of fluids and eating foods rich in vitamin C, vitamin E, zinc and silica, a component in collagen formation, are beneficial.
Lotions, creams and other topical treatments will not reach the dermis, but they can help relieve the itchiness or dryness associated with stretch marks. Keeping the skin moisturized decreases any discomfort that may be felt and if stretch marks are treated when they first appear, their appearance may be reduced significantly. Massaging nutrient-rich natural oils such as wheatgerm, jojoba or vitamin E can help heal the epidermis and also increase blood circulation to the affected area, assisting the healing process. Pregnant women should avoid products containing clary sage, basil, cinnamon or thyme, as these might adversely affect the fetus.
Stretch marks eventually fade and become less obvious over time. Maintaining a balanced perspective about stretch marks can keep pregnancy a most precious time for mother and baby.