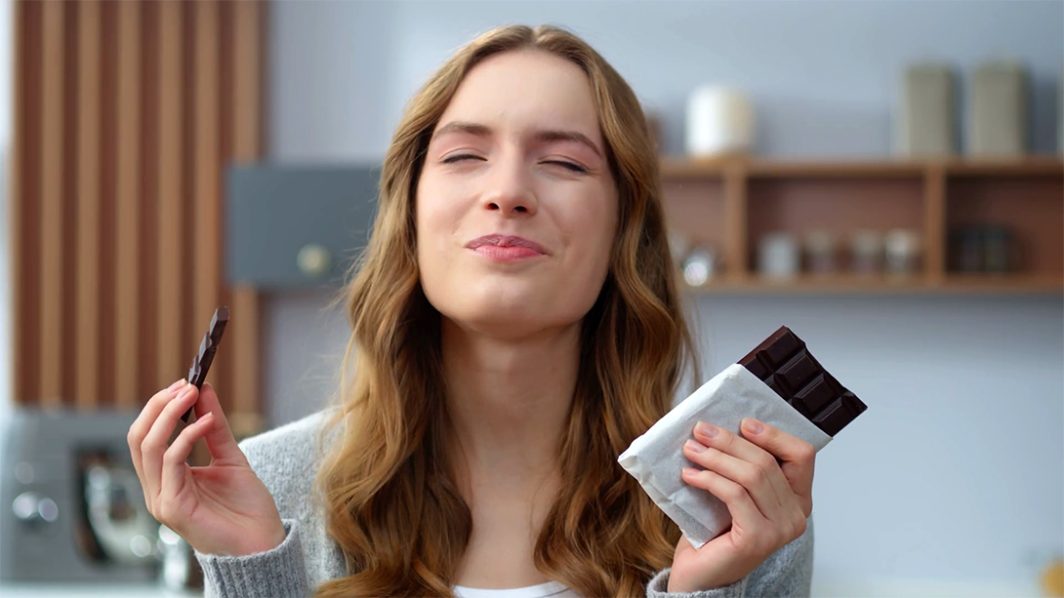 Positive and Negative Aspects of Chocolate and Sweets
You aren't going to be told to give up the chocolate. Chocolate can be good for you. There are,

 however; some things you need to know about the chocolate and sweet cravings you experience.
When blood sugar levels drop below 65 milligrams, a sweet toot and sugar craving is the result. If the blood sugar level is allowed to continue below the 65 mg., headache, weakness, and even heart palpitations can occur. Thinking becomes slowed and confused which leads to grouchiness and irritability.
Many scientific studies have shown that well being and a positive disposition result when the blood sugar levels remain above the fasting level.
The average American begins the day with high sugar content foods. Think about it. You're running late for work. You skip having breakfast. You stop at the nearest 7-11 or QT on your way to work and what do you buy? Sugar laden coffee and a couple of donuts! Or maybe you drive through Winchell's Donut Shop or Crispy Cream for your morning donuts and sugar-laden coffee.
If you are in a big hurry but not that late, your breakfast consists of the quick and easy. How about pop tarts, toaster strudel, frozen waffles, or coffeecake? And sugar-laden coffee, of course.
All that sugar that's consumed in the early morning hours causes the blood sugar to skyrocket, but in an hour or so it drops to a low level again. The result? Inefficiency and fatigue! The real function of sugar is to efficiently produce energy not fatigue.
The key to maintaining an even blood sugar level for hours after consumption is by adding protein to your breakfast. Drink a glass of milk or eat some yogurt or cottage cheese with breakfast. Another name for cottage cheese is curds and whey. There have been some excellent studies performed recently on the benefits of whey including increased hormone levels and lowered body weight. By adding milk, yogurt, or cottage cheese to your morning meal, you'll be taking a healthy step in the right direction.
If you feel you need a mid-morning or mid-afternoon snack, eat a protein bar. I didn't say to skip the chocolate. The important point is to add some protein.
Mrs. A was bragging, "I can eat chocolate and still lose weight." It was learned that Mrs. A skipped breakfast and had only a chocolate candy bar for lunch.
She went on to say, "I have to have my chocolate. I would rather starve myself all day than to give up my chocolate."
Studies have shown that chocolate consumption is healthy because of its polyphenol and anti-oxidant properties. "Chocolate is a mild stimulant and mood elevator."1 It tastes good too. In fact, chocolate is delicious. According to a study at Shippensburg University in Pennsylvania, five out eight women crave sweets. The most prevalent craving being the craving of chocolate.2
Mrs. A would be functioning at a more efficient level by replacing the candy bar with a protein bar. The craving for chocolate and sweets disappears or is at least diminished when the blood sugar level is kept high. That is accomplished by eating protein foods – NOT sugar foods.
What Mrs. A didn't realize is that when a craving becomes so intense that you think you can't live without it, it's become an addiction.
Many women crave chocolate every month during either PMS of their menstrual cycle. In addition to a blood sugar level, this craving could also be the result of a nutritional deficiency. Many "chocolate-addicts" crave chocolate because of a chromium and magnesium deficiency.
Chromium helps stabilize blood sugar levels and makes better use of insulin. This action lessens the urge to indulge in those delicious tempting morsels of chocolate.
Another supplement that helps to naturally suppress chocolate and sugar cravings is the amino acid L-Glutamine. Glutamine is known as the essential "non-essential amino acid." It is known to alleviate hypoglycemia.
In summary, chocolate and other sweets can become an addiction for these reasons: 1. Low Blood Sugar Levels 2. Nutritional Deficiency
Supplements that help curb the craving: 1. Chromium 2. L-Glutamine
The best way to curb the craving:
1. Add Protein Foods to Your Meals
2. Eat Protein Foods for Your Snacks
3. Take Supplements